When you get on scene of a medical emergency, do you talk with the patient?
Sure you do. In fact, if you're still fairly new at EMS, you likely practically interrogate them.
Questions like, "When was your last oral intake?"
… or …
"What were your events leading up to this incident?"
… are laughable, when heard outside a run.
How about, "When did you last have something to eat or drink?" or "What happened just before you passed out?"
A real conversation will get you farther faster than trying to act like a doctor—who, if he has experience, knows better anyway.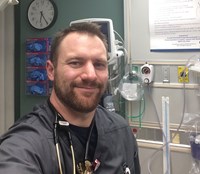 Here to explain some of the things we can learn from just talking to a patient is Tim Nowak.
Tim's the founder and CEO of Emergency Medical Solutions, LLC, an EMS training and consulting company. He's been involved in EMS and emergency services since 2002, and has worked as an EMT, paramedic and critical care paramedic.
He's also been involved as an EMS educator, firefighter and HazMat technician throughout his career.
Tim's article: Anti-interrogation patient assessment
Article: 8 patient assessment tips for new EMS providers
We heard from David Hesselmeyer of On-Target Preparedness. He's also a firefighter/paramedic with Buies Creek Fire-Rescue in Lillington, North Carolina. He has some comments on Greg Friese's predictions about the coming decade:
"I was listening to one of your podcasts recently with Greg Friese and he was talking about recruitment and retention. One of the things that I wanted to say was–because I have a big passion for this–is the problem with recruitment. We continually look at this as if we were the same department as in the 1980s . Recruitment and retention is something that we have not adjusted for today. We have not adjusted for the change in the people that we have, whether it's volunteer or career. We keep doing the same things. I travel and teach about recruitment and retention and one of the things I always like to ask them is, 'What kind of recruitment and retention actions are you taking?' And most of the time, what I hear is, 'Well, we have it out on the front sign that we want new members, and we tell people we want new members.' And so that is something that we have to change. We have to change the culture of how we're doing recruitment and retention, so that way we can look at it as something that we're doing here in 2020 and not something that we're doing just like we did the 1980s."
Thank you, David. He called us at (562) 337-9902 to leave that message, and you can, too.
If you hear something you don't agree with – or you want to add your comments, just call us at (562) 337-9902 and record a voicemail. I'll use it in the next show.
Speaking of the next show, it wouldn't be possible without the support of the superfans who have made a pledge at our Patreon page.
Those are people like Andrew, Blaine Donovan, Cole Gilmore, Timothy Trent, and our newest supporter, Ulrich Koellner. Ulrich was a guest a while back, telling us what it's like to be a firefighter in Germany. He decided to help keep Code 3 going strong. Why not join him?
It's easy. Just click here.  If you donate $10 a month or more, you'll get instant access to the Code 3 Bull Sessions. Those are extra content made available exclusively to patrons.
So make your pledge today.