I received an email here at Code 3 a few days ago. It was full of comments about the show, like a lot of other emails I get.
But this one was different. It came from a firefighter in Germany, and he wrote mostly to discuss the Eurohelmet debate. Their regulations require the new helmets for interior attacks, and a lot of his firefighters don't like them, either.
I was interested to read how things are done there…and how much is the same as in the U.S.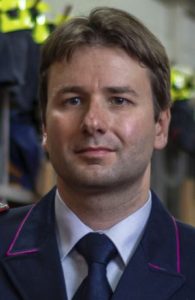 So I decided to ask the guy who wrote me to come on Code 3.
Ulrich Koellner is a 24-year veteran firefighter. He, like 97 percent of firefighters in Germany, is a volunteer. His position is something like a battalion chief—he's a deputy platoon leader and the head of the hazmat squad.
"My department covers the town of
Seesen
. It is a small town at the foot of the Harz Mountains," he said.
"The city area is also our main area of responsibility plus some of the woods nearby and we also work together with neighboring cities if the situation requires.
Within city limits we are the biggest department equipped for all types of incidents and with 10 vehicles and 100 personnel for active duty (plus a honour division for our retired firefighters as well as a youth and a children's branch).
"In addition to that there are nine villages within city limits that all have there own (mostly independent) department equipped for small to medium sized situations (mostly one engine and one van for transportation). Usually, if there is call in a village we respond to that as well. "