Firefighting has always been about survival. But now, we are recognizing that fire isn't the only danger.
Whether it's occupational cancer, cardiovascular events, or behavioral health injuries, the threats are constant.
A new book, Surviving the Fire Service,  contains vital information about cancer, cardiovascular risk, medical exams and screening, nutrition, managing heat stress, and a whole lot more.
It explains how to manage and reduce the risks that come with your career.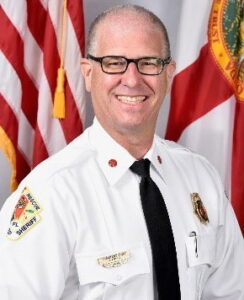 Here to tell us more is Todd LeDuc, the editor of Surviving the Fire Service.
Todd LeDuc retired as assistant fire Chief for Broward County Florida Fire/Rescue after a 30-year career.
Todd is the Chief Strategy Officer at Life Scan Wellness Centers. Life Scan provides NFPA 1582 compliant early detection physicals to some 35,000 firefighters and law enforcement officers.
He's also Secretary of the IAFC's Safety, Health & Survival Section.
CONTRIBUTING AUTHORS:
Susie Day, MS, PhD
Bryan Frieders, Firefighter Cancer Support Network
Michael Hamrock, MD
Denise Smith, PhD, FACSM
Stefanos Kales, MD, MPH, FACP, FACOEM
Gavin Horn, PhD
Sara Jahnke, PhD
Jeffery S. Johnson, Newport News (VA) Fire Chief
Adam LaReau, O2X founder
Frank Leto, captain, FDNY
Lori Moore-Merrell, International Public Safety Data Institute