Recruiting has become a real problem at many volunteer fire departments.
But what's worse is when you do get someone to join, get them qualified, and then in a year or two they quit.
The NVFC says its happening at least partly because volunteers are being lured in by the big red trucks and then find they'll spend a lot more time doing EMS work.
That make sense. If they joined because of the video or poster of firefighters in turnouts at a structure fire, they're going to be disillusioned.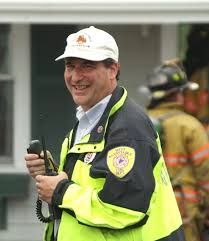 So why do departments keep doing that?
We're discussing that today with Joe Maruca. He's chief of the West Barnstable, Massachusetts, Fire Department. That's a combination fire department on Cape Cod. He served as a volunteer firefighter from 1977 until becoming chief in 2005. He is a Massachusetts director on the National Volunteer Fire Council, and serves as the vice chair of the NVFC's recruitment and retention committee. He's also a retired attorney.
Joe's article: Volunteer Fire Departments: Bait-and-Switch and a Question of Identity