Let's say you wanted to become a company officer. In your interview, you probably told them it was because you felt your leadership could help the department, and you meant it.
Even if you also felt that a promotion would give you a raise. Or more prestige. But if those were your real reasons for wanting the job, you're headed for trouble.
Here to explain why and what a company officer really needs to know and do is Kelly Lemmons.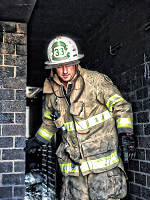 Kelly is the Deputy Chief of the Colonial Park Fire Company in Harrisburg, Pennsylvania. He is also a firefighter/EMT for the Defense Logistics Agency.
He's served over 19 years in the Pennsylvania Army National Guard, and is a Staff Sergeant serving as an Infantry Advance Leaders Course Instructor.
And he was awarded the Purple Heart after being injured in combat in Iraq in 2005.
Kelly's article: Company Officer Leadership: When in charge, be in charge – but it's not about you
Article: Company Officer Leadership Must-Haves