If you or someone you know had a broken arm, you'd want it treated right away.
Well, PTSD or clinical depression are no different, really.
Just because you can't see them doesn't mean you can ignore them.
And, just like a broken arm, they're absolutely nothing to be ashamed of.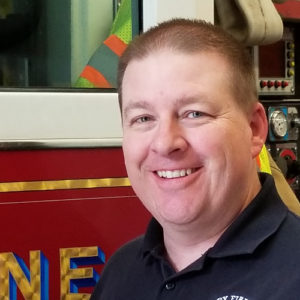 Here to talk about why that stigma exists and how to overcome it is Todd Donovan.
He's a firefighter/paramedic for the Derry Fire Department and a Data Specialist for the New Hampshire Fire Academy and EMS.
He's a volunteer for the National Alliance on Mental Illness – New Hampshire.
Article: Transcranial Magnetic Stimulation for the Treatment of Adults with PTSD, GAD, or Depression
Article: Magnets show promise in relieving depression, post-traumatic stress symptoms
Trivia question:
Why is the Maltese Cross the fire service symbol?
Answer:
The Maltese Cross represents the ideals of saving lives and extinguishing fires.
It was borrowed from the Knights of St. John of Jerusalem. The knights existed in the 11th and 12th centuries and championed the poor and the sick.
The Knights of St. John later assisted the Knights of the Crusades in a relief effort to the Island of Malta, the island for which the Maltese Cross was named.
The Maltese Cross came to represent the principles of charity, loyalty, chivalry, protection of the weak and dexterity in service.