Concussions have been in the news lately, especially in football players.
Football players at all levels have experienced them, and have started to see pretty bad effects from concussion.
But it turns out, firefighters need to worry about them too.  They happen, and can have the same results.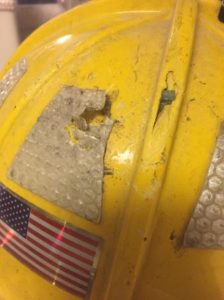 In this episode, we hear from Mat Blankenship, whose fight to prevent and treat concussions more seriously is a personal one. He wrote this article after suffering a career-threatening concussion.
He started as a volunteer firefighter and in 2003, he was hired by Henrico, Virginia County Division of Fire.
Mayo Clinic's web page on Concussion.  Notice the first sentence: A concussion is a traumatic brain injury that affects your brain function.
A FireEngineeing article titled Firefighter Concussions
Trivia Question:
In the movie Backdraft, Kurt Russell played Steven McCaffrey. He also played the character's father. What was HIS name?
Answer:
Kurt Russell played not only Steven McCaffrey, but Dennis McCaffrey, Steven's father who picked a very bad day to take his young boy on a run.