Swift-water rescue is a dangerous proposition, and nobody knows that like an Arizona rescue team member.
While we're known for our deserts here, when it rains, dry washes become raging rivers, and having the right training for this extreme situation is critical.
Our guest this edition, Tom Pendley, has been pulling people out of sticky situations in Arizona since 1987.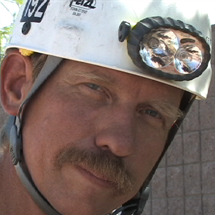 Tom served as Deputy Chief of Operations, Training and Special Operations
for the Peoria, Arizona Fire Department before retiring in 2016, after 26 years of Service. He taught technical rescue for the Phoenix Fire Department for 15 years and was a technical rescue
instructor trainer for the Arizona State Fire Marshal's Office for 10 years. Tom served 14 years
as a volunteer with the Maricopa County Sheriff's Mountain Rescue Team including 5 years as
team commander.
Tom has authored dozens of articles on rescue technique and training for
Fire Rescue Magazine and other publications. Tom has conducted a number of informal back
yard tests on rescue systems over the years. He holds a helicopter private pilot rating and is an avid mountaineer, river runner, and powered paraglider pilot. Tom now works full time running Desert Rescue Research, which specializes in developing high quality technical rescue training resources. He currently lives with his family in Port Townsend, Washington.
Swiftwater Strategy article by Tom
Tom's company, Desert Rescue Research
Tom's book: