Our guest this Monday on Code 3 is Dalan Zartman, who stopped by to talk about using new techniques for extricating people from wrecked cars.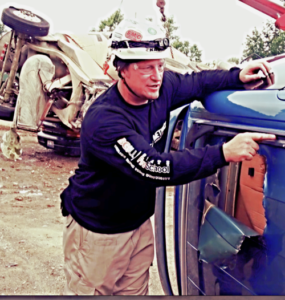 Dalan is a decorated 16-year veteran of the fire service and USMC veteran. He spent six of those years assigned to a busy inner city engine and medic company and has spent the remainder of his career assigned to a heavy rescue.
Dalan is the founder of Rescue Methods and has used his experience as an instructor and passionate practitioner of firefighting and technical rescue to create the RM vision. He serves as a regional rescue equipment manager for Finley Fire Equipment representing Paratech and Hurst.
His primary areas of instruction are all technical rescue disciplines and FF survival/RIT. Dalan has a diverse instructional background ranging from recruit training at the State academy to technical rescue training for military organizations.
He is also a published author providing instructional columns, articles, and curriculums for DHS/EMA, Fire Engineering, and FR1. He is an active member of the regional USAR team.
Five steps to modern vehicle extrication article from FireRescue1