A lot, if not most, of the fire/EMS professionals of a certain age in this country were influenced to join the profession by watching the seminal 1970's TV series "Emergency!"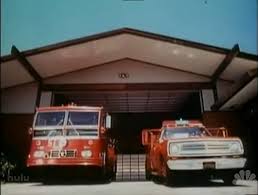 The adventures of LA County Paramedic/Firefighters John Gage (Randolph Mantooth), Roy DeSoto (Kevin Tighe), and the crew of station 51 showed the budding first responders –and the rest of the US–what could be done by firefighters with emergency medical training.
So, for Christmas 2017, we gathered Central Arizona Fire & Medical Authority Chief Scott Freitag, Battalion Chief Brad Davis, who grew up in Los Angeles watching the show, and probie Firefighter Kayleen Weiland, who was born about 20 years later, around the TV to watch an episode and find out how they reacted.
(If you've never seen the show, and I don't know how that would be possible, click here for some background.)
Here's a synopsis of the season four episode we chose, "The Mouse:"
The firefighters rescue an elderly man from his burning house. Chet is determined to exterminate an uninvited guest in the station. A man is continually going into cardiac arrest and the doctors try to find a reason. An elderly woman is brought in with breathing problems, and Dixie comforts her worried husband. Roy and John help break up a bar fight, then join several fire companies in putting out a blaze caused by a jet fighter crashing into an apartment house; John is injured in an explosion and a Pasadena firefighter goes in to rescue him.
We also created a video version of this podcast, in the spirit of "Mystery Science Theater 3000," and it's embedded below. We certainly hope Universal will see this as fair use (critique/commentary) and NOT ask that it be taken down, but if so, well, we tried.
Merry Christmas!
Here's a good book on the series: