On this episode, we're once again talking with Phil Jose, the recognized expert on the art of reading smoke.
As you may know—and as Phil likes to remind us—smoke is fuel.
In most cases, it's just waiting for the right conditions to ignite.
We'll discuss how to keep that from happening.
Also on the agenda is a little talk about the relative merits of vertical ventilation. When do you go to the roof and start opening it up? It's all about coordination.
And finally, we'll talk about when it's time to change how things are done on your fireground.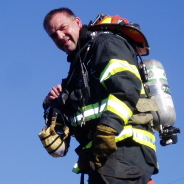 Sounds interesting, doesn't it?
Phil Jose retired from Seattle Fire Department as the Deputy Chief of Operations/Shift Commander after 31 years of service. He's had the opportunity to work in the training division as a Lieutenant, Captain, and Deputy Chief. Phil is a popular seminar speaker around the country, a published author, and he also runs Ignition Point Training.
Resources:
Phil's article: The Art of Reading Smoke: The Next Generation
Phil's article: Reading Smoke and the Transfer of Command Process