If you're not a career firefighter in a major city, this is going to be a familiar topic. If you are in a major city, get ready to hear something a little scary:
A lot of volunteer and smaller combination department truck companies are just two … or fewer… people.
And given the declining numbers of fires we're seeing, those firefighters may not have much experience setting up their apparatus.
As always, training is the key. But it has to be worthwhile training. As more than one fire chief has reminded me, very few fires occur in empty school parking lots.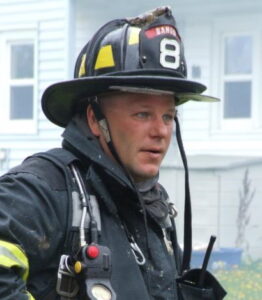 Here to talk about how to get solo truck operators up-to-speed is Ryan Johnston.
He's a 23-year career firefighter for the Waterville, Maine Fire Department. He started in the fire service as a volunteer in 1991 and to this day, still volunteers in his hometown of Oakland, where he's a lieutenant.
He's a charter member of the Managing Officer Program at the National Fire Academy and owns Maine-Iac Training, a fire service training company.
Ryan's article: The Shorthanded Aerial Operator
Article: The Ins and Outs of Basic Aerial Operations
Article: Aerial Physics