Vertical ventilation is a pretty controversial subject these days.
Ever since the UL report on it came out, firefighters have been arguing whether vertical ventilation is worth the risk and if it even has the effects we want.
One thing that makes it risky is that it's tough to do realistic training for it.
Where do you stand?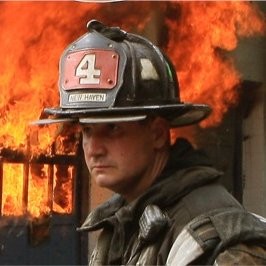 Today's guest has some insights into the debate.
Frank Ricci is a lieutenant with the New Haven, Connecticut Fire Department. He is an FDIC Instructor and lecturer.
With two decades on the job, Frank has written magazine articles, chapters for textbooks, and created DVDs on firefighting technique.
Article: Effectiveness of Fire Service Vertical Ventilation and Suppression Tactics
Article: Considerations for Safe, Effective & Coordinated Vertical Ventilation
Article: The Great Vertical Ventilation Debate Rekindled: Lightweight Construction and Vertical Ventilation
Trivia question:
What's a Lorenzo ladder?
Answer:
A Lorenzo Ladder was (or is) an improvised master stream. It's made up of a standard ladder pipe fitted onto a 16′ extension ladder.
The ladder is placed into position out of a window of the floor below the fire floor, with cables to hold it in place.
It was invented by Lt. Peter Lorenzo of the FDNY, but no one seems to have actually used it at a real fire.