It may surprise you to learn that PTSD is not the major factor in most firefighter suicides. We can thank the simplistic nature of the news media for that conclusion.
That's just one of the myths that surround—and drive discussion on – the topic of firefighters taking their own lives.
One of the strongest advocates in the fire service fighting to dispel those myths actually nearly killed herself four years ago.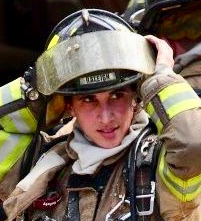 Now she's spreading the truth about firefighter suicide.
Dena Ali's been a guest on this show before.
She's a 10-year veteran of the Raleigh, North Carolina Fire Department, where she's a captain.
She's lectured on the subject at FDIC (and will again in 2019) and just last month, graduated from UNC with a degree in public administration.
Dena's article: Dispelling Some Common Myths About Suicide
Dena's article: Awareness-Level Fire Service Suicide Prevention
More by Dena: Understanding Fire Service Suicide, the Key to Prevention
Trivia question:
Looking at an EKG strip, you see that there are 6 large boxes between QRS complexes. What is the heart rate?
Answer:
If there are 6 large boxes between QRS complexes, the heart rate is 50. To calculate the heart rate on an EKG strip, divide 300 by the number of large boxes between QRS complexes. In this case, 300 divided by 6 is 50.