If you're a company officer or a command-level officer, you know the job is all about decision-making.
The trick, of course, is to make good, defensible decisions in a big hurry at a chaotic scene.
How do you do it?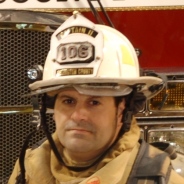 This show's guest has some ideas that could help you make the right decisions under pressure.
Nick Salameh is a 36-year veteran of the fire service. Thirty-one of those years were spent with the Arlington County, Virginia, Fire Department.
He was a Fire/EMS Captain II and served as Training Program Manager.
He's also a former Chair of the Northern Virginia Fire Departments Training Committee.
Nick's article: Operational Risk Management: How To Make Good, Defendable Decisions On The Fly
Article: Decision Making on the Fireground
Article: Four Steps of Sound Fireground Decision-Making
Trivia question:
What's a firemark?
Answer:
A firemark was a metal label placed on the front of buildings back in the early days of firefighting. It identified what company insured the structure, allegedly so fire brigades paid by competing insurance companies would not waste their time putting out a fire there.
After all, a guy's gotta get paid, right?