A major fire requires a major rehab effort.
A couple of bottles of water and some shade from a rig just won't cut it.
It takes a well-executed plan to keep firefighters rotating in and out of a fire scene that might last 8 hours or more.
And, you guessed it, there's an acronym for rehab planning, too.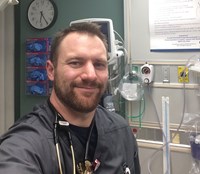 My guest on this episode is here to go over the logistics of rehab at a major scene.
Tim Nowak, AAS, BS, NRP, CCEMT-P, SPO, MPO, runs Emergency Medical Solutions, an EMS training and consulting company.
He's been involved in EMS and emergency services since 2002. He has worked as an EMT, paramedic and critical care paramedic, as well as a firefighter and HazMat technician.
Tim's article: Remember REHAB for Prolonged Incidents
Article: Vital signs are only one component of fireground rehab
IAFF Fireground rehab procedures
Trivia question:
What is a febrile seizure typically associated with?
Answer:
Febrile seizures are convulsions brought on by a fever in infants or small children. During a febrile seizure, a child often loses consciousness and shakes, moving limbs on both sides of the body.