When you get to a fire scene, what size line do you most often pull?
If you said an inch and a half, this show is definitely for you.
Here's another question for you: You're the first-in engine at a house (a/k/a, SFR, a/k/a Residential Dwelling) fire. Do you protect the exposures and wait for another engine to arrive or attack the fire itself?
The answer depends on whether you can knock down the fire in a hurry. For that, you'll need a big line, big nozzle and big water.
That's our topic on this show.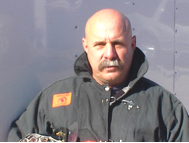 My guest literally wrote the book on this subject. Paul Shapiro has  been involved with the fire service since 1981 and served as an engineer with Las Vegas Fire & Rescue for 28 years until his retirement.
He is a certified fire instructor for Nevada.
And he's the author of Layin' The Big Lines. a book on large flow water delivery.
Paul's company, Fire Flow Technology
Paul's article, "Don't Mess Around, Just Blast It"
Trivia question:
If we're talking automatic sprinkler heads, E.S.F.R. stands for what?
Answer:
E.S.F.R. stands for Early Suppression Fast Response