On this episode, we learn about how a long-time firefighter turned his idea into a business.
Captain Geoffrey Giordano of the Stevenson Volunteer Fire Department in Connecticut saw a need for a better kind of paging system. So he invented the Real-time Volunteer Emergency Response System.
It's known as ROVER, and it's a solution for keeping track of volunteer resources that are available to go on runs.
Find out what convinced him to develop the system and how it works.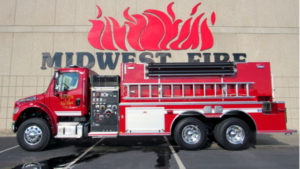 Dante receives first new fire engine in 70 years
We also have a 14-year saga of grant writing.
If you've ever tried it, you know it's an art.
In Dante, South Dakota, they've been trying to replace a 1967 water tender for well over a decade, and even that truck was converted from something else.
The Dante Fire department finally won the AFG grant last summer and got a shiny new Midwest Pumper-Tanker.
It's the first new apparatus the department has owned in 70 years.
Dante Fire Chief Mike Kotab joins Scott to tell that story.