Peoria Fire-Medical Department Engineer Steve Gunn has been named as one of 12 public safety officers to be awarded the Public Safety Medal of Valor by the United States Attorney General.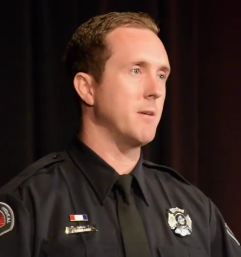 In April 2016, Peoria Fire-Medical, along with other jurisdictions, responded to a house fire near 75th Avenue and Thunderbird Road.
The first unit on scene, Peoria Fire Engine 193, found a house fully engulfed in flames. The report from Phoenix Fire dispatch was that people were trapped. This was a home invasion and arson fire that ripped quickly and violently through the house.
Gunn, the first boots on the ground and firefighter nearest to the home, headed right for the danger. Gunn entered the home through a blown out picture window at the front of the home and crawled directly into the thick black smoke and flames.
For nearly 40 seconds, Gunn worked inside the blaze, helmet melting, turnouts blackening and skin burning. Finally, right before the room flashed, he was able to pass the victim to the waiting hands of his captain. He was treated for his burns at the Arizona Burn Center and was back on his next shift.
Earlier this year, Gunn was named United Firefighter of the Year at an award ceremony held at Arizona State Fire School.
The Medal of Valor, created in 2001 by Congress, recognizes extraordinary acts of heroism and bravery on the part of the nation's public safety officers. It is the highest award for valor a public safety officer can receive.
Gunn will travel to Washington, D.C., at a date yet to be determined, to receive his award from either the President or the Vice President of the United States at a White House ceremony.
And he keeps his melted helmet at home as a memento of that day.