Fire-based EMS has been common since the 1970s.
The first civilian mobile medical units appeared in Europe in the 1960s
In 1969, while serving as president of the Los Angeles Chapter of the American Heart Association, cardiologist Walter S. Graf created a "mobile critical care unit," consisting of a Chevy van, a registered nurse, and a portable defibrillator.
The same year his patient, Kenneth Hahn, a member of the Los Angeles County Board of Supervisors, persuaded the Supervisors to approve a pilot program to train county firefighters as "Mobile Intensive Care Paramedics."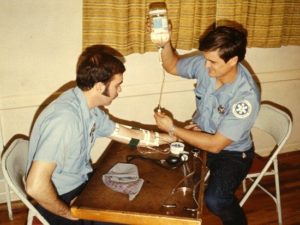 A change in state law was necessary to allow personnel other than doctors and nurses to render emergency medical care. Hahn recruited two state legislators who wrote the Wedsworth-Townsend Paramedic Act of 1970, signed into law by Governor Ronald Reagan on July 15, 1970, despite opposition from doctors, nurses, and attorneys. Paramedic training began the next month at the Freeman Memorial Hospital under Graf's direction. It was the first nationally accredited paramedic training program in the United States.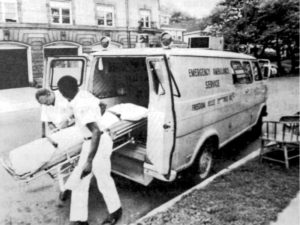 Pittsburgh's branch of Freedom House Ambulance Service is credited as having the first emergency medical technician (EMT) trainees in the United States.
Almost simultaneously, and completely independent from one another, experimental programs began in three U.S. centers; Miami, Florida; Seattle, Washington; and Los Angeles, California. Each was aimed at determining the effectiveness of using firefighters to perform many of these same advanced medical skills in the pre-hospital setting in the civilian world.
Many in the senior administration of the fire departments were initially quite opposed to this concept , and actively resisted and attempted to cancel pilot programs more than once.
In 1972 the first civilian emergency medical helicopter transport service, Flight for Life, opened in Denver, Colorado.

Then the "Emergency!" television series, which ran from 1972–1977, premiered on NBC.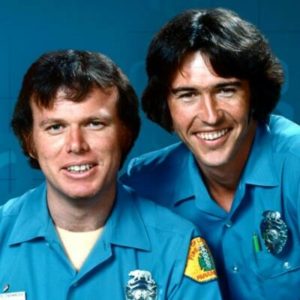 It was like an infomercial for the paramedic concept,  bringing the adventures of paramedics Johnny Gage and Roy DeSoto into people's homes every Saturday night.
When the show first aired in 1972, there were only 6 full-fledged paramedic units operating in 3 pilot programs (Miami, Los Angeles, Seattle) in the whole of the United States.
By the time the program ended production in 1977, there were paramedics operating in every state. The show's technical advisor was a pioneer of paramedicine, James O. Page, then a Battalion Chief responsible for the Los Angeles County Fire Department paramedic program, but who would go on to help establish other paramedic programs in the U.S., and to become the founding publisher of the Journal of Emergency Medical Services.
In the ensuing years, firefighters have been called to fewer fires and many more medical calls.
A well-known Washington Post article by Fred S. McChesney said, in 2015:
Being a firefighter these days doesn't involve a lot of fighting fire. Rapid improvements in fire safety have caused a dramatic drop in the number of blazes, according to the National Fire Protection Association. Buildings are constructed with fire-resistant materials; clothing and curtains are made of flame-retardant fabrics; and municipal laws mandate sprinkler systems and smoke detectors. The striking results: On highways, vehicle fires declined 64 percent from 1980 to 2013. Building fires fell 54 percent during that time. When they break out, sprinkler systems almost always extinguish the flames before firefighters can turn on a hose.

Firehouse Magazine's annual "National Run Survey" for 2016 said that in North America, fire departments responded to 13.2 million calls: 1.3 million fire calls, and 8.9 million EMS calls.
Some politicians look at those figures and ask, why not assign private ambulance services to medical calls and reduce the size of fire departments, which should only handle fires.
This week on Code 3, we discuss the situation with Prescott Fire Chief Dennis Light and Central Arizona Fire & Medical Authority Chief Scott Freitag.