It's not easy to be married to a firefighter. Whether you're the wife or a husband of one, you know it can be tough to deal with emotionally.
And if you're thinking of marrying a firefighter, you need to understand that there's more to it than the one-hour orientation class the department offers you. A lot more.
This topic never used to be addressed.  I'm glad that nowadays, people are recognizing that, left to fester, it can and does lead to divorce. But it doesn't have to.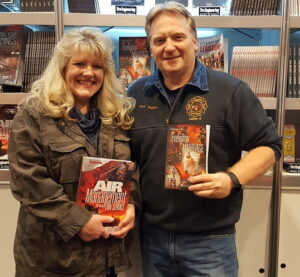 That's why Mike and Anne Gagliano wrote a book and frequently speak around the country about how they've made it work for 35 years.
Mike retired as a captain with Seattle Fire after 30 years of experience in the fire service. He has written a bunch of articles for fire service magazines and websites. He's also co-author of the book "Air Management for the Fire Service."
Anne is his co-author of their book, "Challenges of the Firefighter Marriage."
Mike and Anne Gagliano joined me to talk about what they've learned over the years.