There's a certain mindset that says it doesn't matter how you start, as long as you finish strong.
That's not always true, though. One example: when you pull your first line at a fire. How you do it sets the whole scene for the firefight.
If there's confusion about where those initial lines are going, you'll end up with a bowl of spaghetti.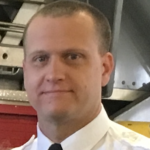 Back with me on this show to explain how and why to best stretch that first line is John Lightly.
He's a battalion chief in the Youngstown, Ohio fire department with over 20 years on the job.
John's article: Stretching the First Line
Article (same title, different story): Stretching the First Line