In this show, we break down a fire that nearly cost two firefighters their lives. They ended up with serious burns, but they lived.
The thing is, like so many situations similar to this one — it was entirely preventable.
It happened in Washington, DC in October, 2007.
It was dispatched as a fire in a rowhouse, a typical fire for DCFD (if any fire could be said to be typical). But things went sideways almost from the first engine's arrival.
Here to explain what happened—and why –is Dennis Rubin.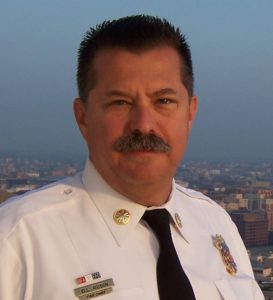 Dennis heads up the fire protection consulting firm, DL Rubin & Associates.
He has more than 35 years on the job and has been a fire chief at several departments, including DCFD.
He is a graduate of the National Fire Academy Executive Fire Officer Program.
He's also been an adjunct faculty member of the NFA since 1983.
Dennis' article on the incident and lessons learned: Four on the Floor
Books by Dennis Rubin:
Trivia question:
When and how did organized firefighting start in the U.S.?
Answer:
It began in New York – still called New Amsterdam— in 1648. A fire watch of eight "Wardens" were required each day, and every male citizen had to stand watch.