Mark van der Feyst began his career in the fire service back in 1998 with the Cranberry Township Volunteer Fire Company, Station 21 in Pennsylvania where he served as a Firefighter and Training Officer for a period of four years. From there he joined the Mississauga Fire & Emergency Services, Canada where he served for three years. Currently Mark works for the City of Woodstock Fire Department. Before joining the fire service, he was a design engineer for SimplexGrinnell for five years.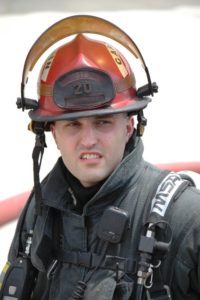 Mark graduated from Seneca College of Applied and Technologies as a Fire Protection Engineering Technologist, the Justice Institute of British Columbia with a Bachelor of Fire and Life Safety Studies. He is pursuing his Masters of Science in Fire & Emergency Management Administration through Oklahoma State University.
Mark is an international instructor teaching in Canada, the United States and India. Mark is a Local Level Suppression Instructor for the Pennsylvania State Fire Academy. He is also a Professor of Fire Science at Lambton College and an Instructor for the JIBC Bachelor degree program.
He's currently president of FireStar Services, which offers professional emergency services training